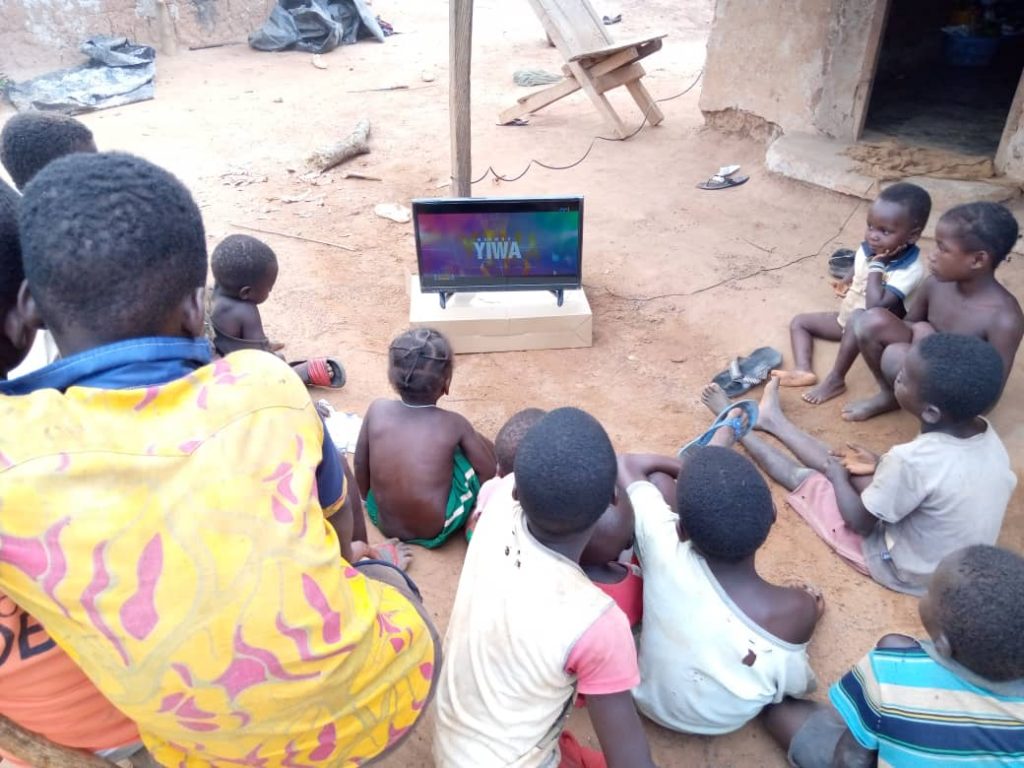 Providing villages in rural DRC access to education and entertainment with solar-home-system-powered appliances. Photo © Solar Run
Source:Lighting Global
Solar Run, a Chinese manufacturer, was among the first companies to sell PAYGo-enabled solar home systems, benefitting from increasingly matured integration and mobile payment technology in the sector.
"As a young brand, we are determined to provide cost-effective product choices to end consumers. This approach allows consumers to try energy service with a low financial barrier, so that we are able to quickly grow consumer's adoption for PAYGo model," said Judy Li, Vice President at Solar Run.
In the Vanuatu Rural Electrification Program (VREP) – Vanuatu's electrification program for remote areas supported by the World Bank and the government of New Zealand, Solar Run worked with their local partner to provide Apollo – a large solar home system that provides households with both lighting and entertainment needs. "With the subsidy provided by VREP, the customers were able to enjoy electricity with high-quality products for the entire household at a low cost," Solar Run's distributor Rannie Pantay said.
Built on an open API framework, Solar Run's SHS integrated with four PAYGo platforms and over 20 mobile money companies across Africa and South Asia. Li said, "It largely allowed us to work with distributors from different markets without creating extra tech costs, ultimately increasing product sales."
Leveraging Lighting Global Certification to Foster New Market Opportunities 
Solar Run is currently selling products in 39 countries serving 150,000 end-users and offers 12 products that meet Lighting Global Quality Standards, ranging from pico reading light to PAYGo-enabled large solar home systems. "We learned about Lighting Global's Quality Standards from years of working for other clients as an OEM manufacturer. The idea of pursuing the certification for the Solar Run brand was rooted in our very first product," said Apple Liu, sales manager at Solar Run.
In the DRC Electricity Access & Services Expansion (EASE) program – a RBF based program supported by the World Bank to enhance energy access for the two million underserved population living outside of SNLF national grid in Congo, Solar Run was chosen as a PAYGo enabled supplier for a modularized solar home system from their product portfolio that meets Lighting Global Quality Standards.
"The scale of this project required not only power for household lighting or appliances, but also solutions to power community infrastructures such as farming tools, schools and health centers. Certifying our products to the Lighting Global Quality Standards provided the EASE program with an extra insurance of quality," Li said. "Additionally, in partnership with Vodacom, we are promoting these energy services through Vodacom shop network. With over 3,000 locations, this will bring tremendous marketing value to PAYGo solar and our products."
"For the off-grid solar market, VeraSol (formerly Lighting Global Quality Assurance) provides consumers, professional buyers, investors and development programs the accurate, trusted, third-party product certification they need to make informed decisions. Manufacturers are leveraging VeraSol quality certification to stand out from competitors and build market confidence for their products," explained Ari Reeves, who manages the VeraSol program.
Investing in Solar Media Solutions for the Future of PAYGo 
Li explains that Solar Run is introducing a solar media solution to empower consumers with information access and education use.
Their newest solar media kit comes with multiple LED lights, phone chargers and a 7' pad coupled with a media center, where users can access various contents including children's education, agriculture practices, service information as well as government podcasts.
"While the Lighting Global quality testing for this new line of product is currently undergoing, we are working on preparing for our first pilot in India. We believe this solar media kit will help our users and their livelihoods to thrive," said Li.