"Our company does not have a long history. We solved the power issue by solar for 30 million population in 13 years, however, there are still 800 million people suffering from accessing to electrisity. We are facing a long time work on this……."
11th of Nov, the fifth day of COP27, several climate youth from China appeared in the conference site to advocate their outstanding solutions on climate change topic on behalf all the young people who are working on this field. Shenzhen Solar Run Energy Co., Ltd is invited among them for a exhibition on the COP 27 Green Zone X CCCA topic exhibition in Future Generation & Innovation Hub, and a speech on the side conference  hosted by Vanke Foundation and C-Team in China Pavilion.
Lixia,The co-founder of Solar Run,has been devoting herself and the team on qualified,valuable and affordable renewable energy to the people living in absolute poverty. The products on exhibition are Solar Media and Candles Killer which are designed for the electricity popularization on the people in poverty, especially in Africa.
Solar media is a solar powered portable multi media player which can pay audio, video, picture and text files. It can both charge mobile phone and light the house with at most 4 bulbs. The design concept is to solve the issue of empowerment of the abject poverty. Current pattern of aid is hard to reach the last mile of the abject poverty, and granting is not the best way to solve poverty problem. Empowering the people in poverty can change their life quickly and completely. What's more, the pandemic of Covid-19 has suffered the same population since 2019. They are lack of the basic knowledge on anti-epidemic and how to protect themselves, because the information chain is broken. Even one generation was effected by this pandemic according to a recent report by UNESCO, UNICIEF and World Bank. Solar Media can solve this problem above perfectly. It has a 7 inch LED screen, 40 WH LiFePO4 battery, 10-20 W solar panel and 8-32 G storage. It has already been praised by the World Bank and UN agencies, and begun to popularize in African countries like Kenya, Rwanda, Burundi.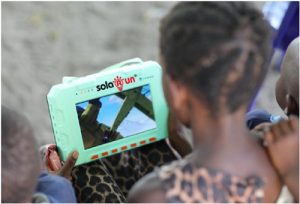 Candles Killer is a small solar reading light with only 0.3 W Solar panel. It has two mode of lighting, with the power of 3.2 V and 400 MAH LiFePO4 battery. A 5-6 hours charging by solar can lead a lighting for 5-6 hours with a triple times brighter than candles, which is where the Candles Killer name came from. With a 3 more than years' life span, it has been sold for more than 1 million pieces. After four times of updating, right now it has only one screw by zero complaint. The design concept is to make every penny from poverty valuable, that is why its stick is cut down and replaced by water or beer bottles. This product has won the trust from customers all over the world, including the Total Energies Group from France. Right now it can been found in every shop of Total Gas station in Africa.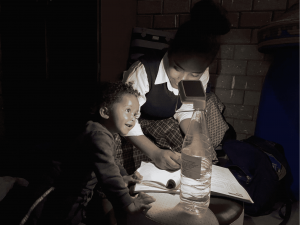 These two products above were all got the Lighting Global certificate from the World Bank and the Red Dot Prize from Germany. The designing of package on Solar Media had also got the Muse prize from America. The unique design, credible quality and the cost effective price, are the reasons they are accepted and well sell. These are also the original desire aspiration of Solar Run, a private social company from China.
On one hand, Solar Run keeps emphasizing the willing to be a responsible manufacturer, that is why it takes recycling as one of the product basic requirements for the solar products and always focuses on the updating of the new technology. On another hand, Solar Run is working on tightening the relationships with the local partner in developing countries. In another word, Solar Run is changing from a product supplier to a technology supplier. That is to say, it moves the sales focus from product updating to finding more suitable solutions for local partners. Lixia called on a concern on the population who could not access to the power in the world, and moving forward to SDGs on energy, justice and education with the effort united together. She said finally, "giving a man a fish, and you feed him for a day. Teaching a man to fish, and you feed him for a lifetime. A wish from me is to be regarded as a respectful social company of China during the days we were reaching SDG goals, when we look back upon this memory in the future."