Brief introduction of solar home system
Solar home system: SHS (Solar Home System). Mainly refers to the small photovoltaic power generation system installed in office buildings and residential buildings to supply power to the residents themselves. During the day, the power generation system charges the battery; in the evening, the power generation system discharges the electric energy stored in the battery to realize power supply to household loads.
Its composition is as follows:
Solar panels are the core part of the solar power generation system and the most valuable part of the solar power generation system. Its role is to convert solar energy into electric energy or sent it to the storage battery or drive the load. The quality and cost of solar panels will directly determine the quality and cost of the entire system.
The raw material of solar panel includes cells, glass, EVA, TPT, and aluminum alloy frame.
The solar controller is composed of a dedicated processor CPU, electronic components, displays, and switching power tubes.
Generally, lead-acid batteries, generally 12V and 24V two kinds, in small and microsystems, Lithium Iron Phosphate batteries, nickel-cadmium batteries, or lithium batteries can also be used. Its function is to store the electrical energy generated by the solar panel when there is light, and then release it when needed.
In many cases, AC power is required.
There are two kinds of electricity, DC and AC. Homes that are connected to utility power use AC electricity. Flashlights, small radios, and automobiles use DC electricity. The direct output of the solar generation system is generally direct current, which needs to convert the DC (direct current) generated by the solar power system into AC (alternating current), so an inverter is required. An inverter is a device that converts direct current (DC) into alternating current (AC).
Classification of Solar Home System
Household solar power generation is divided into off-grid power generation system and grid-connected power generation system:
Off-grid solar home systems.
It is mainly composed of solar cell components, controllers, and storage batteries. To supply power to AC loads, an AC inverter is also required.
( YelloBox—4 rooms lighting and 2 ports for phone charging )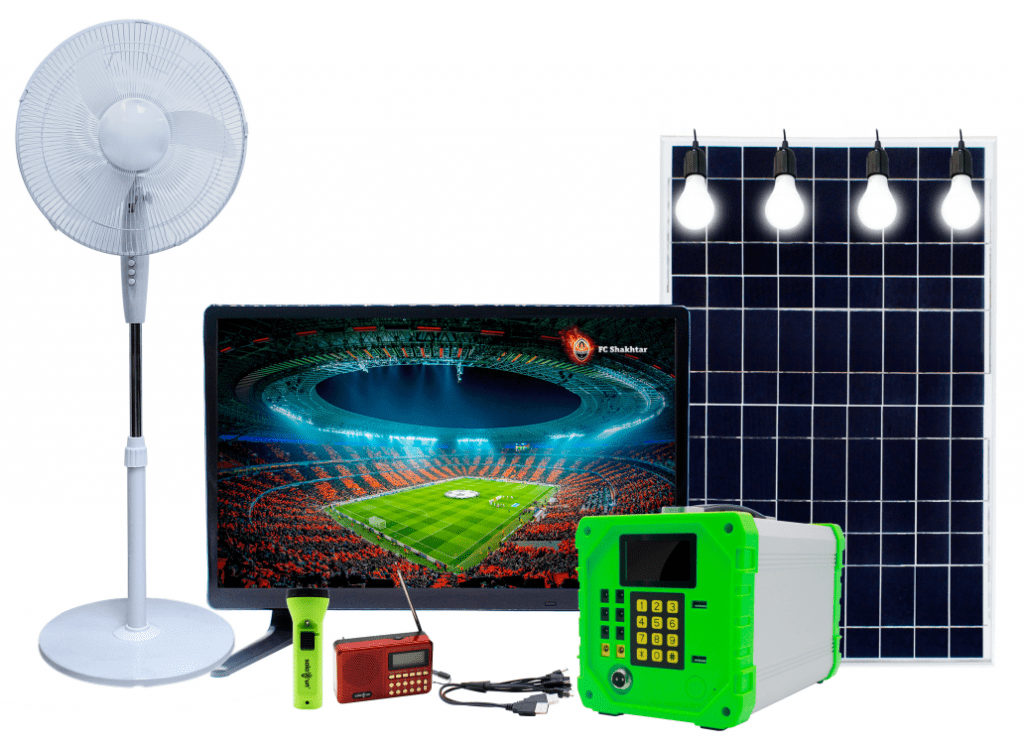 ( Mbox — Power home lighting, phone charging, fan, TV, radio, solar torch )
Grid-connected solar home system.
It means that the direct current generated by solar modules is converted into alternating current that meets the requirements of the commercial power grid by a grid-connected inverter and then directly connected to the public grid.
Grid-connected power generation systems include centralized large-scale grid-connected power stations, which are generally national-level power stations. The main feature is that the generated energy is directly transmitted to the grid, and the grid is uniformly deployed to supply power to users. However, this kind of power station has a large investment, a long construction period, and a large area, and its development is relatively difficult. The distributed small-scale grid-connected power generation system, especially the photovoltaic building integrated power generation system, is the mainstream of grid-connected power generation due to the advantages of small investment, fast construction, small footprint, and large policy support.
Advantages of solar home system
Solar energy is inexhaustible.
The solar radiation energy received on the earth's surface can meet 10,000 times the global energy demand. As long as solar PV systems are installed on 4% of the world's deserts, the electricity generated can meet global needs. Solar power generation is safe and reliable, and will not suffer the impact of the energy crisis or unstable fuel market.
(2) Solar energy can be everywhere, and power can be supplied nearby without long-distance transmission, which avoids the loss of long-distance power transmission lines;
(3) Solar energy does not use fuel, and the operating cost is very low;
(4) Solar home system has no moving parts, is not easy to damage, and is simple to maintain. It is especially suitable for unattended use;
(5) Solar home system does not produce any waste, has no pollution, noise, and other public hazards, and has no adverse effects on the environment. It is ideal clean energy;
(6) The solar home system has a short construction period, is convenient and flexible, and can add or reduce the amount of solar power capacity according to the demand of the household to avoid waste.
Application fields
Small power supplies ranging from 10 to 100W are used for military and civilian life in remote areas without electricity, such as plateaus, islands, pastoral areas, border posts, etc., such as lighting, TV, radio, etc.;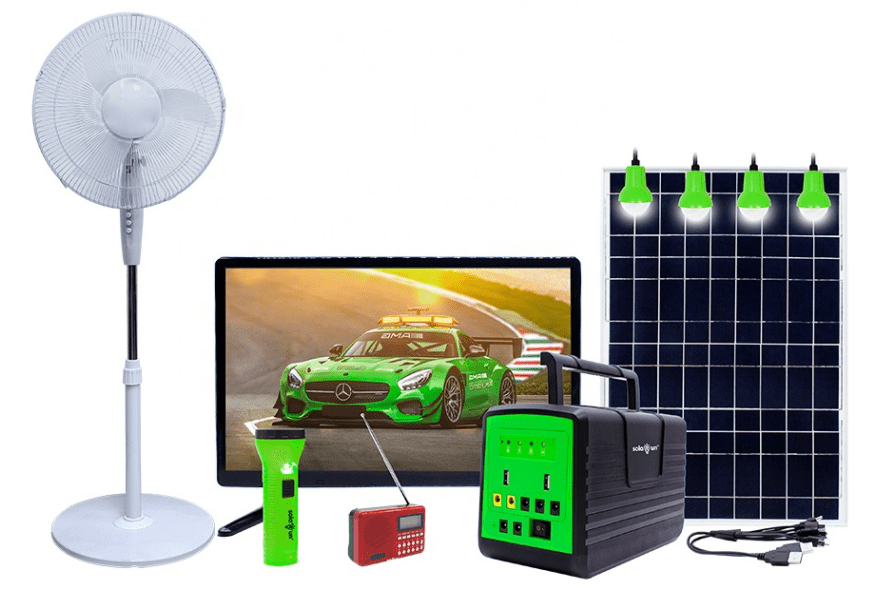 ( Apollo—Room lighting, radio, phone charging, fan, TV)
3-5KW home roof grid-connected Solar Power Generation System;
Solar water pump: to solve the drinking and irrigation of deepwater wells in areas without electricity;
(4) Solar water purifier: to solve the problem of drinking water and purified water quality in areas without electricity.
Shenzhen Solar Run Energy
Solar Run enables people to replace deleterious and expensive kerosene lanterns and candles with modern solar energy that can power lights, cellphones, TVs, fans, and other small electronic devices. To make off-grid people's life easier and more comfortable.
Solar Run hopes to bring more happiness to people in power-intensive areas with our high-quality products in the future.