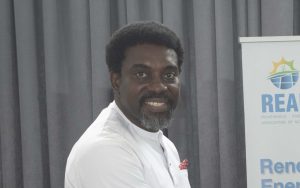 Solar Run's distributor in Nigeria Ayo Ademilua emerges as the New President of REAN.
Mr. Ayo Ademilua holds a Master's degree in Business Administration with a specialization in finance and a Bachelor of Science degree in accounting he is also an alumnus of Lagos Business School (EDC), OXFAM Business Development Program, Stanford Business School:SEED Transformation Program, and a board member at AMDA
He has over twelve years' experience in the Finance industry and worked in various banks within Nigeria including Guaranty Trust Bank before proceeding to pursue his entrepreneurial endeavor as CEO of A4&T.
He brings on board his astute business analysis skills with leadership intuition synonymous with excellence and growth. He acquired requisite skills for renewable energy business from training and conferences locally and internationally. He is a member of the sustainability committee of the Nigeria Economic Summit Group (NESG) consulting on matters relating to renewable energy generation and low carbon emission.
Mr. Ayo is a bridge builder with excellent business and people management skills and hopes to foster synergy amongst members and stakeholders in the renewable energy space. His vision for REAN is to promote unity, collaboration and partnerships among members in a manner that will catalyze the expansion of members' business activities and drive the capacity building of members to enable equal access to global industry benefits.
The Renewable Energy Association of Nigeria is an independent, non-profit Industry association founded by stakeholders in the Renewable Energy sector in Nigeria. REAN is dedicated to promoting the growth and development of the industry in Nigeria by engaging with the public and private sectors to guide advocacy, policy formulation, and investment in the sector.
Source:Press Release: The Renewable Energy Association of Nigeria (REAN) gets New Leadership – rean.com.ng