Solarun participates solar product presentations and donations in Djibouti.
At present, there are still 840 million people around the world who do not have access to affordable, reliable and safe modern energy. They spend about $27 billion a year on kerosene, candles, battery flashlights or other fossil fuel-driven lighting and production products. These traditional solutions are expensive and harmful to health. They make the poorest people on the planet unable to escape from energy poverty. This lifestyle limits their economic development and hinders education, health and basic life services.
After World Bank & Lighting Global planning, it is currently accessing clean, economical, high-quality off-grid lighting and energy for more than 840 million people living in off-grid areas.
After years of operation, it has provided Lighting Global quality-certified solar lighting products to 180 million people around the world, and more than 47 million of them have already met their basic lighting needs. Shenzhen Solar Run Energy Co., Ltd is one of the first batch in China, and it is one of the few companies that has passed the World Bank & Lighting Global certification, and also participated in"Lighting Global"project.
From January 19th to 27th, 2019, Solar Run Energy Co., Ltd CTO-Ricky took the best-selling product and participated in this charity activity e of "Going Out of China and Lighting Up the World".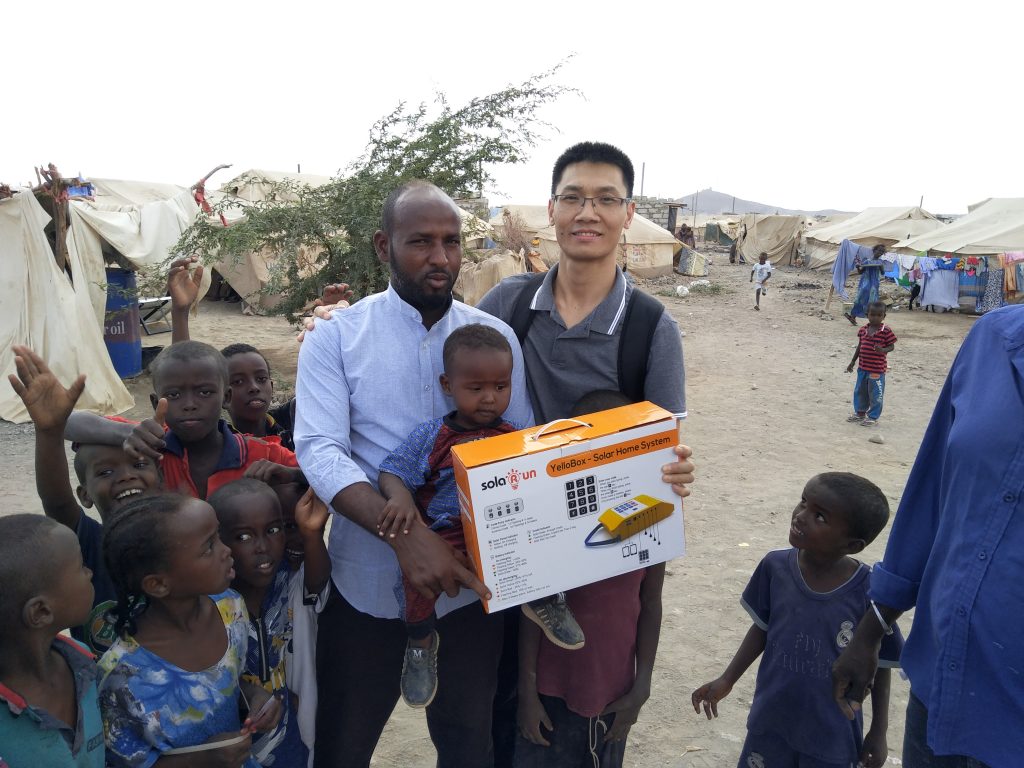 As seen in the above picture – YelloBox – PAYGO SOLAR HOME SYSTEM, this is a very classic PAYGO solar home system certified by the World Bank & Lighting Global.
As we all know, the most common fact about solar energy is that it represents a clean, green energy source. Solar energy is a good way to reduce carbon dioxide emissions. At least 2/3 of the user's living lighting consumption expenses can be reduced after using solar lighting products for at least 20 years. In addition, when power outages caused by natural disasters, solar energy products are more convenient to supply and can more effectively restore the daily life of local people. In some specific areas, many household electrical products cannot be used due to geographical restrictions on the national grid and expensive electricity. However, using the solar energy system, it is possible to use the fan , TV, air conditioner and refrigerator without paying the national grid electricity expense. It is possible to use high value-added home electronics products earlier to enhance the happiness of the people of the third world.
In the process of using solar products, people can process certain products or provide certain services for additional compensation (such as: mobile phone charging, night stall sales lighting, night fishing), and fundamentally improve the family environment. Of course, the use of solar lighting products to replace kerosene, candles and other fire hazard products, can greatly avoid fire hazards, and will not produce smoke and other substances that harm the human lungs, which is one of the original intention of product design.
Solar Run – Ricky personally brought the product to Djibouti product promoter – Ahmed to explain the use of solar products, considerations and the advantages of using solar products.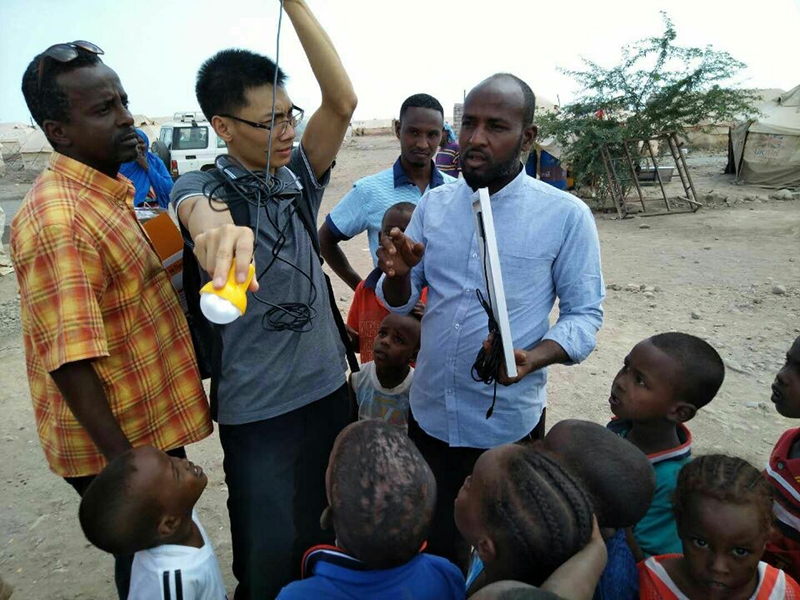 PAYGo technology to local people:
First, no occupying living funds.
The end user only needs to pay the deposit to use the product, and each period pays the usage fee according to his own needs until the product is finally owned. By this way additional money can be used to study, or buy other products that improve lives and other investments.
Second, collecting and analyzing the data of each end user's products will be listed in the background, which is convenient for each organization and institution to analyze data and adjust the market layout.
Third, to meet the functions and advantages of all previous Non-PAYGo system products.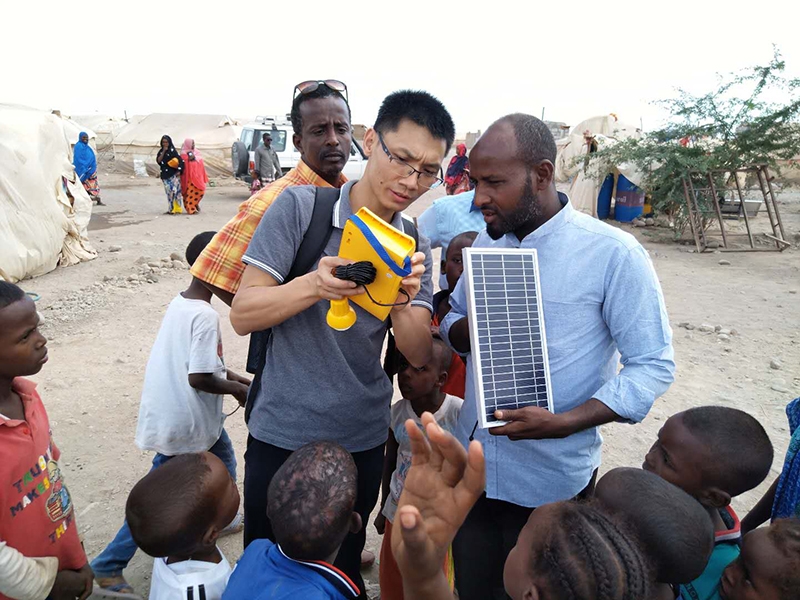 This YelloBox can provide 3-5 lights simultaneously for families in power-deficient areas. At the same time, 2 USB ports can provide battery charging for mobile phones, or small fan power supply support. It greatly alleviates the need for people's nighttime basic lighting and cooling in power-deficient areas. The PAYG system allows people to better allocate funds in their hands. Those who are rich can make other investments in the remaining money and the people who are tightly funded can also use the current highest quality home solar system in advance through PAYG payment. The final payment can be repaid slowly.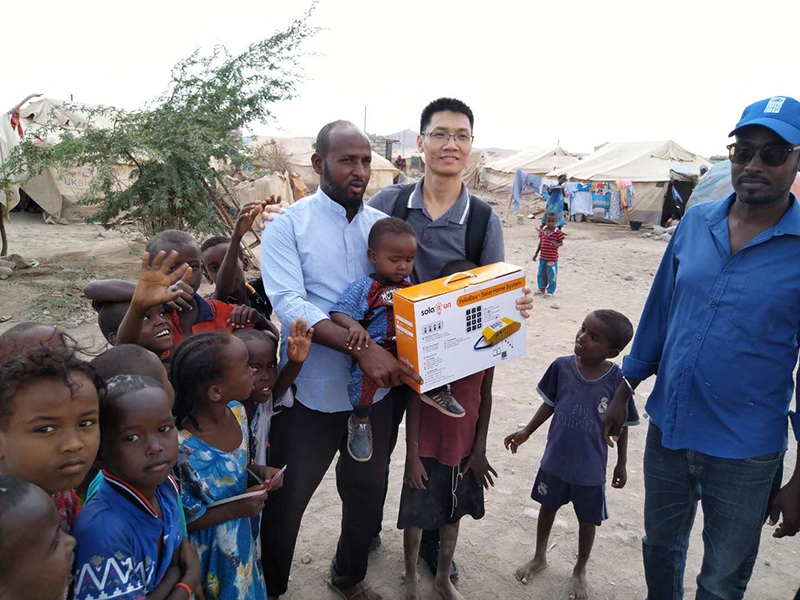 The PAYGO series of home solar systems has great market potential and has been popularized in East Africa and accepted by users. We believe that in more off-grid areas, such as West Africa, Central Africa, South Africa, South Asia, and Latin America, PAYGO series products will bring more happiness to people in power-stressed areas, and at the same time reduce more pressure for users, making a great contribution to curbing global warming.