On September 16, the 2021 "Off-grid Solar Product Quality Assurance System and Testing Technology Seminar" was successfully held online. The conference attracted more than 20,000 representatives of related enterprises and social organizations to participate online.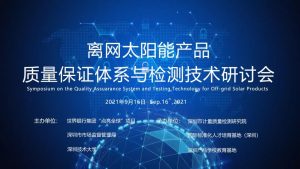 Richard, Product Director of Solar Run and Head of Verasol Product Certification, also spoke on behalf of the conference. He said that "Solar Run is mainly committed to providing clean, affordable and reliable one-stop solar products for poor families living in areas without electricity, and has been sold to 55 Countries and regions have benefited more than 1 million end-users. Solar Run has 17 products that meet VeraSol (formerly known as Lighting Global) quality standards. It is currently the most certified company in China. Of course, this is inseparable from the Verasol team's concern for Solar Run. Support, help, and understanding. He also mentioned that the benefits of Verasol product certification are mainly reflected in two aspects. One is that the Verasol certification standards are very strict. The quality of Verasol certified products is more guaranteed so that people in areas without electricity can use energy. Reliable solar lighting products; second, all foreign projects need to meet Verasol quality standards before bidding or exporting products, and the product quality is higher, which increases the company's influence."

Lighting Global is the platform under which the World Bank Group supports the development of the global off-grid solar energy services market, and includes a portfolio of country-based market development programs. As the manufacturing center of the global off-grid solar market, China will continue to make its own contribution to the realization of the UN SDG7 goals. The successful holding of this seminar has enhanced Chinese off-grid solar companies' knowledge and understanding of the World Bank's "Light Up the World" project quality standards and helped Chinese manufacturers produce products that meet the "Lighting Global" quality standards. It is of great significance to improve the lack of electricity and power shortages in poverty-stricken areas around the world and accelerate the realization of the United Nations Sustainable Development Goals.